04 July 2021
Happy independance day to all our US-friends. We recently had an important event ourselves here in Tunisia, so I decided to treat you with some pictures from a great fund-raiser we participated in at the French Ambassador's residence in La Marsa / Tunisia to support "Wallah We Can", an organisation that helps abused children. Here I am with my dear friends and fellow fund-raisers Mose (left) and Zanele (right). All three dresses were made by afrofashion. High quality fashion for a high quality commitment! Keep spreading the love, my dear afrofashionistas!
I (in the middle) am wearing a dress made of malian hand-woven cotton of which a new batch has just arrived. So if you are interested, contact me and we will make something really unique for you, too!
06 Mai 2021
Hi there afrofashionistas. We started selling at the Big Square, but things are a little slow, today. So I decided to treat you with....ME...dressed in high waste baggy trousers made of chitenje and a wrap-top (funny name, eh?) with a big fat afrofashion logo on it. So much for kick-ass branding! Enjoy your day and keep safe out there.
03 May 2021
If you should be in Tunis over the weekend (in fact thursday to saturday from 10am to 5pm), come and see our stand at Ede Event Expo "Koffet El Eid" at Big Square Concept store opposite Attijari Bank La Soukra / Ariana. See you there at Big Square.
More pics from our dear friend Alqana in Southampton / UK...looks like she is getting hooked on afrofashion; and why not: great fashion produced in Africa....looking fly sis', looking fly!
© Alqana Kelly
11 April 2021
Now look at these two cousins of mine in London...spreading afrofashion back to where we had our celebrated African Fashion Week shows in 2012 and 2013 and our great success at London Fashion Week in 2014.
Alqana wearing a variation of the classic Munnie-dress with reversible collar and optional belt...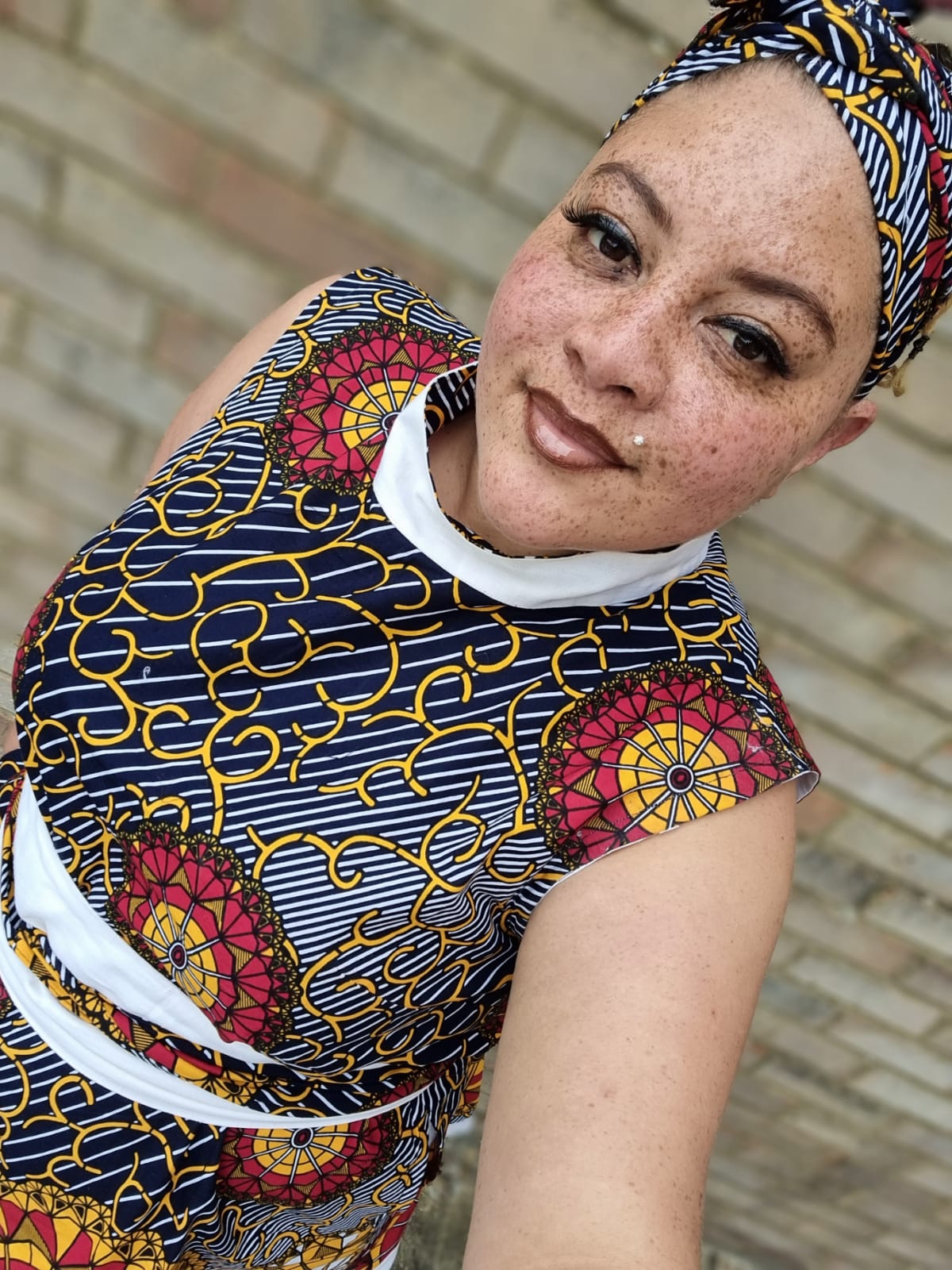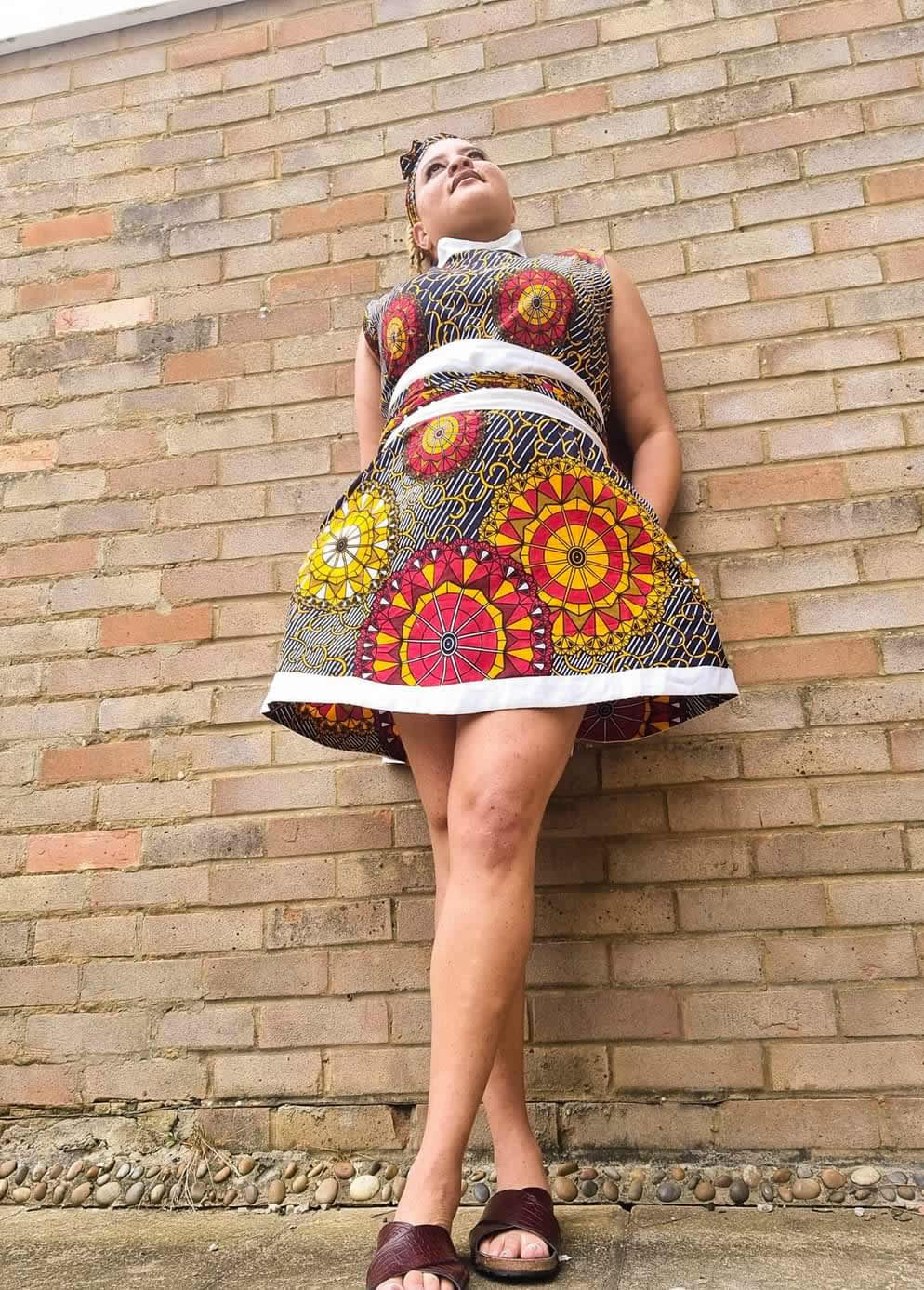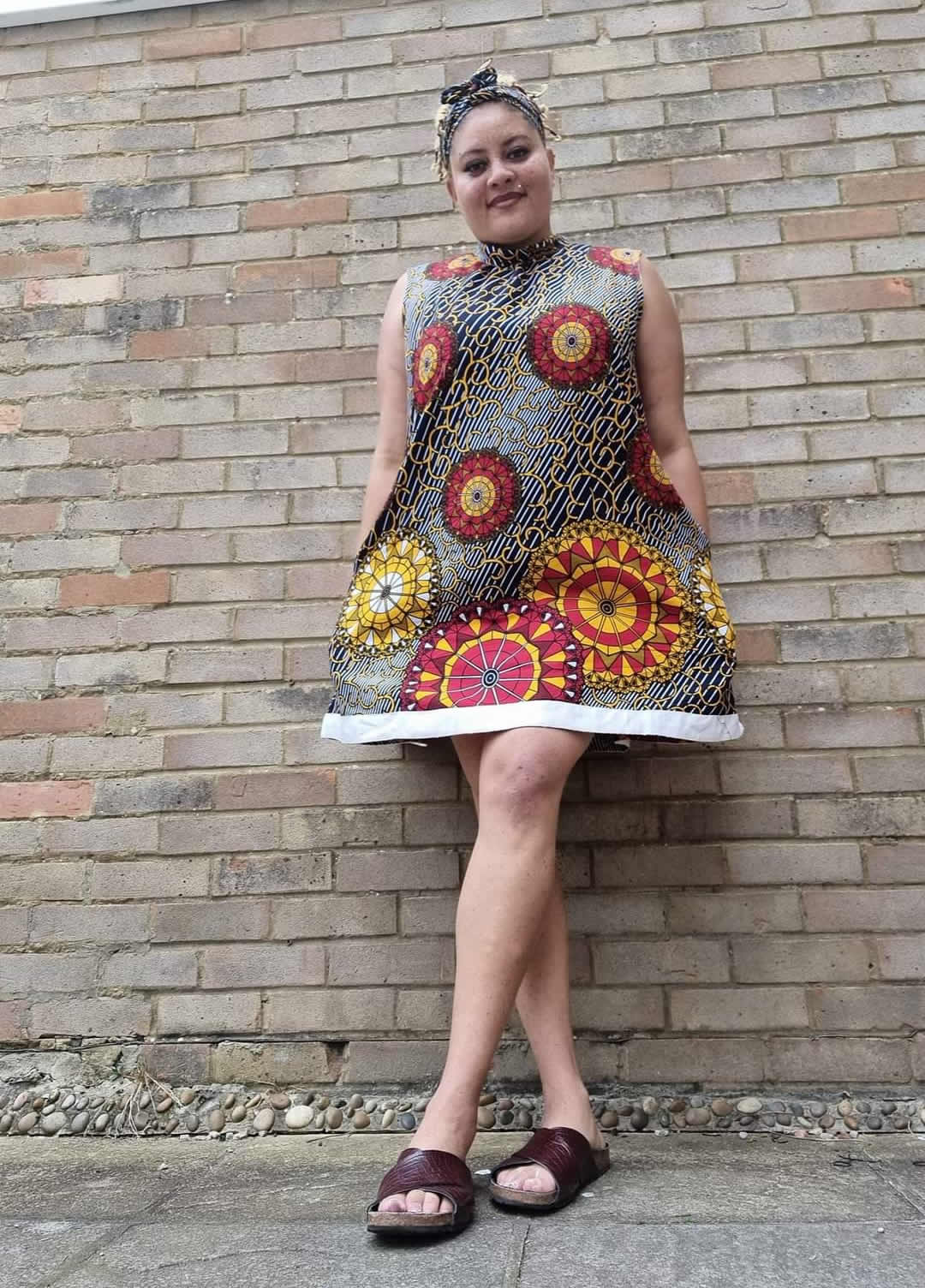 © Alqana Kelly
...while Jason is showing a linen-chintenje shirt with a matching man-bag...oh what a grand couple...love you guys!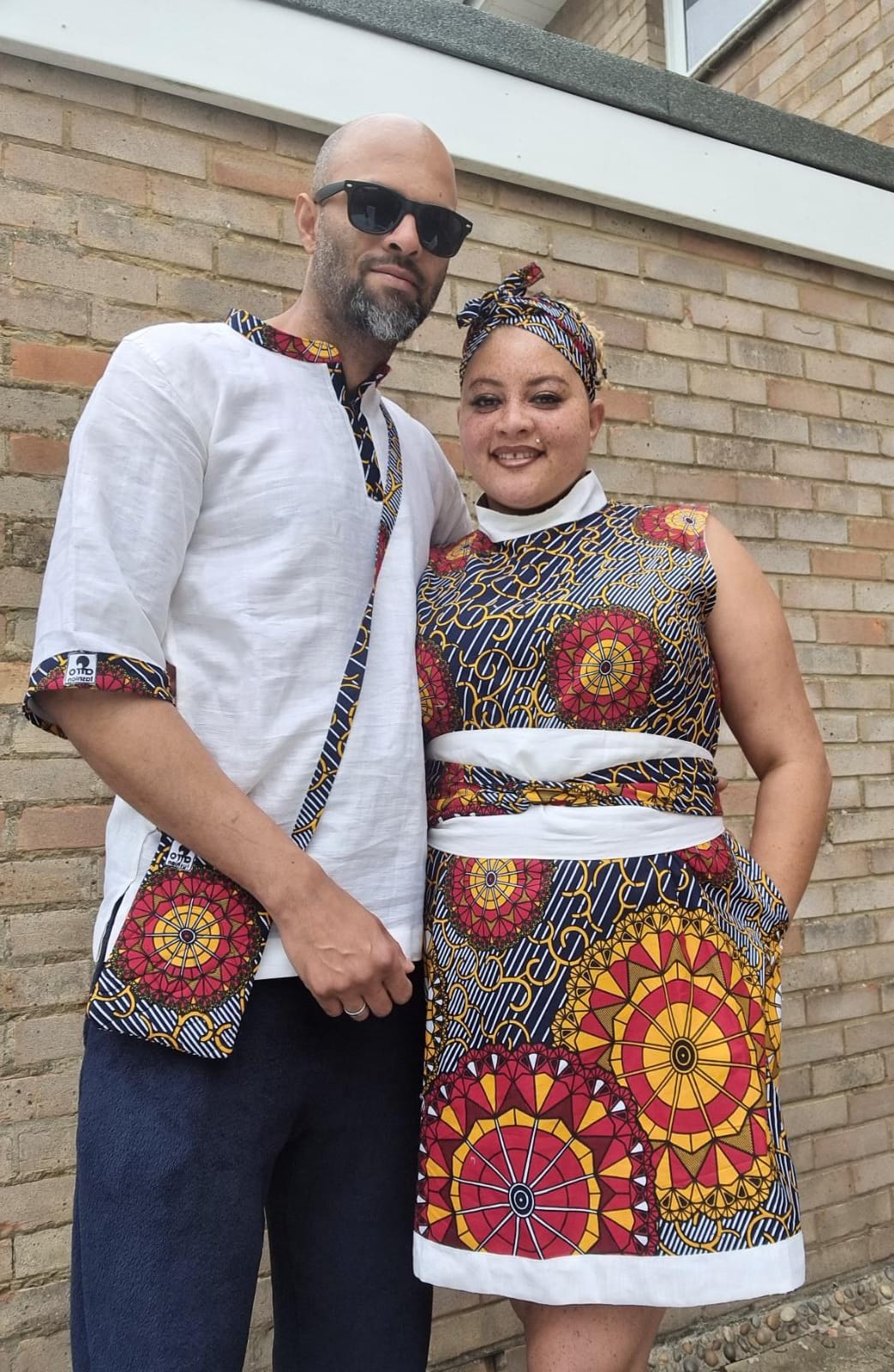 © Alqana Kelly
27 february 2021
We are selling our last chitenjes or wax fabrics, as we will be focussing more on the traditional african materials. If you are interested, contact Munnie on info@afrofashion.biz
Here are some samples:
And here is a picture from our promotional photo shoot. Model Nina seems to be enjoying herself.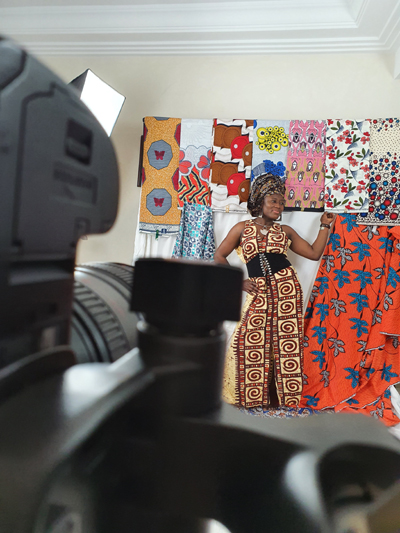 21 February 2021
Some of the usual suspects at the afrofashion house found upcycled clothes they liked and dressed up during our latest shoot. Real natural models striking some cool poses. Great job, boys!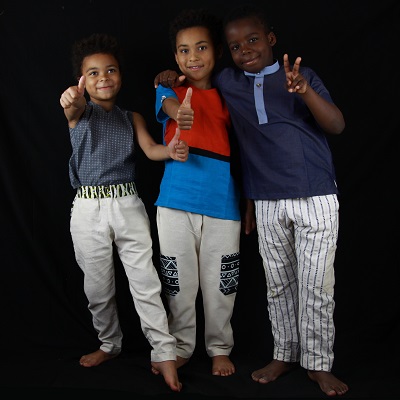 16 February 2021
While we are still trying to find the right fabrics in Tunisia, we would like to share with you some impressions of our upcycling work we have done so far. Tito gave us old shirts and we turned them into new ones that he seems to like...here is his testimony:
"I think the blue shirt is 20 years old. I have used it alot because I have always liked the colour. Now that I have an office job, it seemed to sporty for me to use. From sporty, afrofashion has made it elegant, unique and exclusive. I love it.
I bought the pink shirt in Mozambique, Made in China, for my engagement in 2012. Then, it made a great impression, with cuffs for the cufflinks, but then because of those cufflinks it was too formal to use. Today, those same cuffs have become .....Afro-country, DELICIOUS!!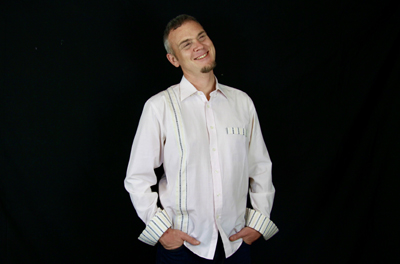 My mom gave me the white shirt when I went to Mozambique for the second time (2007). It had to be the "Good Shirt" for important occasions. I have used it 3 or 4 times because it was too anonymous (a uniform for a bank employee or a waiter). Today, afrofashion has tranformed it to be the shirt for a Central Bank director, or for the Belmond Mount Nelson Hotel director.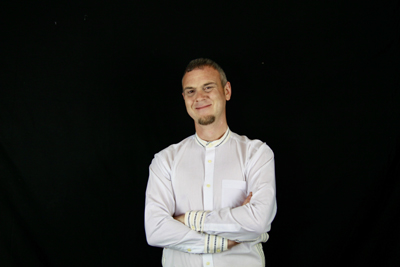 The white and light blue plaid shirt was given to me by my boss`s sister. Although it looked like a table cloth, I used it because of its good cotton and comfortable size (with the Mozambican temperatures). Once in the 40's, I did not want to dress with a tablecloth anymore. But, I felt too sorry to throw it away. Now, it is a unique piece, which is unparalled in cut and finishing. Love them all!"
Below a photo of Tito with his wife Fina, who is dressed in an afrofashion jumpsuit.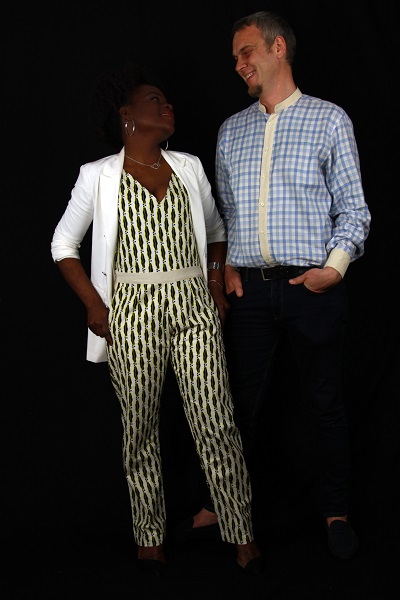 Tito Cappellaro is a Senior expert in local development and a member of ethics4growth
11 January 2021
Watch the video of Mehmuna's interview about afrofashion with Unik Chic on our afrofashion style website or with this link. Basically it is the history of afrofashion in a nutshell...enjoy!
Beginning of January 2021
First of all, afrofashion is wishing you a happy new year. May you be blessed with a good health and a good dose of fashion addiction. Unfortunately, our santa market got affected by the current COVID-crisis. So we are currently sitting on a notable stock of beautiful clothes and colourful chitenjes / wax fabric...wink, wink. Contact us on info@afrofashion.biz or afrofashion@gmail.com for an appointment or photos.
09 December 2020
afrofashion will take part in the santa market at kiddiwinks british montesori school in l'Aouina / Tunis. If you want to see our latest african print collection, be there on the 16 december 2020 from 3pm. On display, you will find clothes, bags and masks and you can also buy african print fabric. Swing by and enjoy!
14 October 2020
afrofashion bamako has restarted production, again. Call our Bamako branch Manageress Famida Daud for appointments or questions: +223 70 44 80 39 or if you prefer email, use mali@afrofashion.biz or mali@afrofashion.info
if you are not in Westafrica, please contact Munnie at our branch in Tunis: +216 53 565 909 or via mail info@afrofashion.biz
we are producing individual face masks in Tunis. Our black Comfy-masks are very popular, which are made out of elastic material and do not pull you ears..,the Comfy-masks come with an afrofashion logo that serves as an indicator, so you immediately know how to place the mask without fiddeling around.
Also in stock at the moment: the famous Munnie-dresses, if desired with matching mask, and individual men's shirts in linen and cotton.
11 July 2020
Hi folks...I know, I know it has been a while (and please forgive me), but a lot has happened since our last update in 2018. For a start, afrofashion is currently setting up shop in Tunis, which is by all means not an easy task.
I promise to be a little more active with my blog on this website (so be sure to pop in every now and again)
Take care during these incertain times.
March 2018
afrofashion participated at the 5th edition of the Festival International de Slam et de Humour du Mali at the Centre Culturel Francais (CCF) in Bamako, held to raise awareness for the integration of stigmatized people. I couldn't be there in person but was told that it was a great event.
December 2017
The second "Africa Unite" show took place in Bamako / Mali at our Buttons Café and was a big success. Amongst the numerous guests was the Minister for Religious Affairs and Cult, Mr. Diallo. The crowd was entertained by models, several of which with albinism, Yaritza Font, BBS band, Virginie and other msuicians. A fundraiser was held for the construction of a new building for ASHED, an orpahanage with over 50 girls and boys. Designers that presented their creations at the show were afrofashion (Malawi / Mali) , Les Péchés Mignons (Mali), Tamakali (Mali), Isabelle Creation (DR Congo) and JK Dressing (Mali). A big hand for Binthily Communication, who sponsored the stage, lights and audio equipment, and the other sponsors, i.e. Radio Kledu, Flexart and SNS security company.
March 2017
What an amazng experince: Our first "Africa Unite" event was held in Lilongwe / Malawi to create awareness for equal rights for people with albinism and their acceptance in society. A fashion show was held were some models and musicians with albinism showed off their talent. afrofashion organized the show in collaboration with the "Association of Persons with Albinism in Malawi"(APAM) and that was sponsored by Standard Bank, the Bingu Wa Mutharika International Conference Centre.
August 2016
afrofashion had an interesting experience in Accra / Ghana at the Mercedes Benz African Fashion Festival 01-03 July 2016. Thanks to our inheritance of old buttons and Malian cotton, the history collection was well appreciated. Thanks to Coralie for the photographs. follow us and see, how our story continues.........after inheriting even more precious buttons from the 19th century. ....
March 2016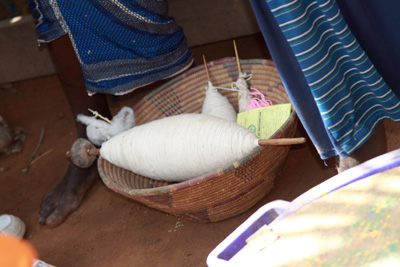 afrofashion has been invited to Mercedes-Benz Fashion Show in Ghana on the 27-29th Mai 2016. We are very excited to participate and will present our new "history" collection. Whach out for news and updates!
Mai 2015
Finally, we got a shop, whoop, whoop! Found a place, pimped it and opened it in Mai 2015!
For directions, see google maps
Just pop in whenever you feel like it. Always something new to discover, always possible to get something tailor made, always friendly, chatty and helpul "afrofashionistas" around, always free and secured parking available and there should always be a free drink for you at our bar.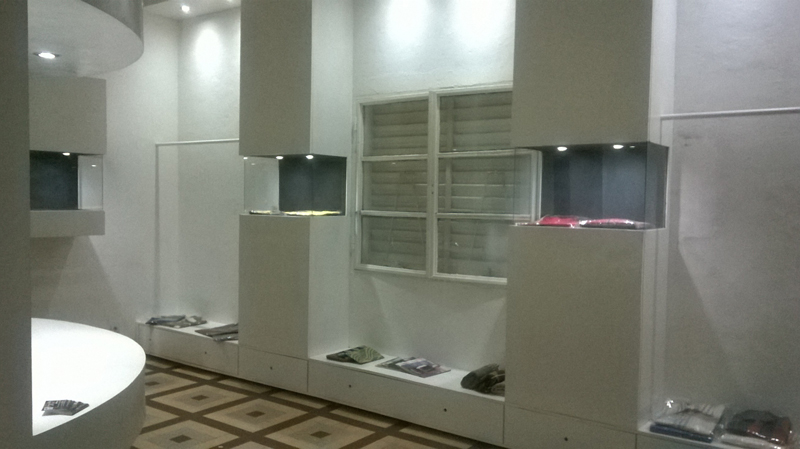 We took part at the first ever Bamako Fashion Week, which was attended by many West-African designers and generated a good deal of curiosity. Our creation was a mix of evening wear and sports outfits à l'afrofashion, including a variety of balls and a racket.
Earlier, we presented at the second edition of Pagne Folie, an event that promotes African print textiles. Although we usually prefer the natural Malien cotton, we sparked off a fire work of creativity, resulting in some rather crazy designs...well, "folie", i.e. crazy, was the motto! Check out the pics!
We are slowly but surely stirring up some global interest: Check out the following sites:
africsalon blog (in German)